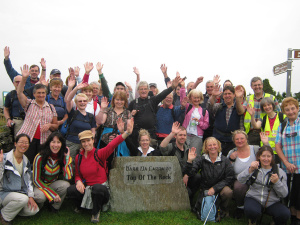 Welcome to our web site, which will guide you through the place, the people and the walks in this parish of DRIMOLEAGUE in the heart of West Cork.
Drimoleague, which was once the busiest railway junction in West Cork with no fewer than three platforms, has now become the hub of walking networks in the area. Hence the title The Walker's Junction of West Cork.
Here the well-acclaimed Sheep's Head Way converges with the six Drimoleague Heritage Walkways, and then continues northwards to Kealkill. St Finbarr's Pilgrim Way, a 37km ancient pilgrim path to St Finbarr's hermitage at Gougane Barra, also starts here.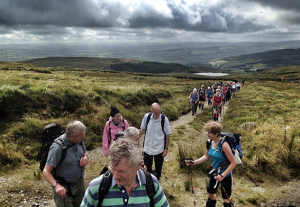 The Dunmanway network of walks are accessible from Drimoleague and, with a few green road stretches, you can find your way to the walks at Carrigfadda, near Rosscarbery. Skibbereen is just 13km away, with Lough Hyne, Baltimore and other coastal walks within driving distance.
The Walkways were launched on 10th October 2008 by Mr Éamon O Cuív, Minister for Community, Rural and Gaeltach Affairs and officially opened on 25th July 2009. Go to our Publications section for more details and images of the opening ceremony.
A short film about the development of Drimoleague Heritage Walkways, commissioned by West Cork Development Partnership.